Player News
Are The Eagles A Better Team Now Than They Were In February?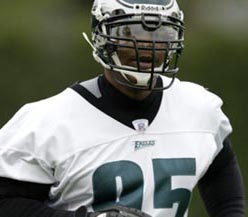 It's probably way too early to tell, but the Eagles think they've improved by retaining some key veterans in free agency and by adding 11 players in the draft -- at least a few of whom they believe will be part of the picture in a significant way this season.
Let's look at the additions and subtractions: The team lost defensive end Derrick Burgess, offensive guard Jermane Mayberry and linebacker/special teamer Ike Reese in free agency. The team expects N.D. Kalu and Jerome McDougle to replace Burgess, they expect Shawn Andrews to start in place of Mayberry and they hope that one of a few linebackers, including second-year man Mike Labinjo, will replace Reese.
The Eagles added only one veteran from another team in free agency, quarterback Mike McMahon. But they also retained starting linebacker Jeremiah Trotter, starting WILL linebacker Keith Adams, veteran defensive end Hugh Douglas, reserve halfback Correll Buckhalter and fullback Jon Ritchie, who figures to compete for the starting job with Josh Parry if he's healthy.
The Eagles are hoping that players like defensive tackle Mike Patterson, wide receiver Reggie Brown -- who was outstanding in the team's post-draft mini-camp -- linebacker Matt McCoy, running back Ryan Moats and safety Sean Considine contribute as role players this season.
The Eagles will also get a slew of players back from injury, including young players like offensive linemen Adrien Clarke and Jamaal Jackson and the team is excited to see those two in the mix this year.
Better? We'll see. Time will be the ultimate barometer on that one. The Eagles had a plan going into the off-season and they executed it. The plan was to retain the key veterans they hoped to keep (Trotter, Adams, etc.) and to have a successful draft.
After a good mini-camp, the Eagles are poised to move ahead. They are in terrific shape with the salary cap and they have a roster with depth at virtually every position. But we won't know the ultimate answer of whether they are a better team until the regular season is well under way.