Player News
'We've got to kick the door in'
5/1/2005 - 9:30 p.m. BY GEOFF HOBSON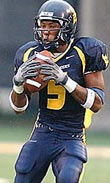 Chad Johnson wants his teammates, the veterans and the rookies to know that this is the year. It's not next year when quarterback Carson Palmer is in his third season. It's not two years from now when Marvin Lewis is in Year Five of the rehab.

It's now.

"We've got to kick the door in," Johnson said Sunday as he watched the rookies scurry for lunch on their last day of camp. "Everybody. I don't care what position you play. Everybody's got to make the same noise I'm making. Whether your vocal or not."

That's why Johnson is taking rookie receiver Chris Henry under his wing and winging him to Los Angeles for a receiver camp after the Bengals close offseason workouts at the end of June.

"He doesn't know it yet," said Johnson, the unlikeliest of mentors.

The Bengals do know after this weekend that they've got a special talent in the 6-4, 225-pound Henry, their third-round pick out of West Virginia. He flashed it Sunday in the end zone on a corner route run from the red zone, getting position with his body, and ripping the ball away from two defenders with one hand. Toss in a route where he flat out ran by a veteran defensive back the Bengals like in former Michigan cornerback Brandon Williams, and Henry had a nice day.

Seeking receiver depth
Put that together with the crisp routes of sixth-rounder Tab Perry, and the Bengals feel like they have come up with two receivers who are going to help them.

It's tough to get excited about a weekend camp that receivers coach Hue Jackson calls "basketball on grass." Even Henry said, "I have a lot of work to do. I have to get into the playbook." But the end-zone battle is a Carl Pickens-esque moment and a tease when it comes to what Henry can do for this team.

"That's my type of play," Henry said. "In the red zone, get big, go up, and make big plays. Jump over people ... 6-4. Just try to go up use my size and height to my advantage."

Pickens used those attributes of strength and size to grab a franchise-best 530 catches back in the '90s. With 282 career catches and averaging 85 the past three seasons, Johnson should pass that late in the 2007 season using a brew of speed and quickness. He landed here in the second round in 2001 much like Henry did in the third round. A guy with a lot of raw talent, little Division I experience, and some emotional baggage.

Henry has been vilified for getting thrown out of a game for excessive celebrating, as well as flipping the bird to a hostile crowd. After a 2003 season where he picked up multi celebration fines and once got his team penalized 15 yards. Johnson calmed down his act last season and that's how he's going to counsel Henry.

"He'll be alright," Johnson said. "I'll tell him, 'Do what you're going to do, just do it within the rules.' Like last year. I did (celebrate). I did it in the rules. No fines."

But Johnson isn't saying he's going to be a wallflower.

"Everybody is always saying, 'He's always talking' but I'm out there walking the walk every Sunday," he said. "I messed up one time. The Pepto Game. I messed up. I can't let that happen."

The Pepto Game, of course, came last season when Johnson sent a bottle of Pepto-Bismol to each of the Browns secondary starters and then had what he called the worst game of his career. Lewis has told him to never do anything like that again, but he did raise a lot of money for the fight against breast cancer in that month of October he teamed up with Procter & Gamble.

"The second annual Pepto Game," said Johnson of this year's Sept. 11 opener in Cleveland.

So Henry has a pretty good mentor on his hands. Who knows what not to do more than Johnson? He does know one thing to do. Take Henry to that July passing camp, "The Phenom Factory," where Perry has already attended.

"I'm going to tell Chris I'm taking him," Johnson said. "He doesn't know it yet. He doesn't have a choice but to go. I'm talking about him coming in right now. You've got to come in and play right now. You've got to be able to make an impact right now."

RUNNING TAB: Perry, the other drafted receiver, opened up some eyes this weekend with ability to run routes and get in and out of cuts despite being 6-3, 230 pounds. Clearly the battle is joined for veterans like Kelley Washington, Cliff Russell and Kevin Walter on a roster list that already has Johnson, T.J. Houshmandzadeh and Peter Warrick. And we're assuming Warrick makes it if he's healthy because the Bengals have already penciled in his $2.2 million for this year.

Lewis isn't getting excited, but he did say Henry and Perry had "great camps," and one of the reasons the Bengals opted for Perry in the sixth round instead of one of those safeties surfaced Sunday when they lined him up to return kicks.

After Saturday's practice, special teams coach Darrin Simmons spent time with Perry and first-year receiver Matt Cherry going over what would happen Sunday in the return drill.

"It's a whole different blocking scheme," said Perry, who fled enough to find life in the UCLA record book in 2002. "In college, it was just catch the ball and run for your life. Looking at the past history of sixth-round receivers, you only make it if you can play special teams. I'm going to have to be a special teams guru."

As a junior, Perry set the UCLA total kick return yards record for a season, averaging 25 yards a shot on the way to 626. Simmons obviously likes his size, but doesn't want to bury the speedy 5-11, 186-pound Russell, either. Russell averaged 22.4 yards on his first 39 NFL returns.

"People forget that Cliff Russell had never done it until last season and he showed some speed," Simmons said. "With (Perry) and Cliff, maybe you can get a little fire and a little ice because he's got great size."

But Perry knows he's also going to have to cover kicks as well as return them, and he says he's a good tackler. So good, he says, that when Hue Jackson recruited Perry to USC, the Trojans wanted him as a safety. In fact, the way Perry played safety at West High School in Milpitas, Calif. is still recalled by Bengals cornerback Deltha O'Neal, a West grad with about four years on Perry.

"Deltha was telling everybody yesterday that I should play safety, but I don't think that's going to happen," Perry said. "It's funny that we ended up on the same team because when I was 13, 14, I looked up to him. I said I wanted to be able to play like that."

EXPERIMENT WORKING: Let it be known that No. 1 pick David Pollack came up with his first interception as an NFL outside linebacker Saturday as he chased the tight end across the field and made a play on the ball.

Then on Sunday he got the Marvin Lewis stamp of approval in his move from defensive end to outside linebacker: "He's further ahead than any guy I've ever had playing that spot," said Lewis, who oversaw a Pro Bowler named Peter Boulware make the switch. "I don't see that being an issue."

Pollack is taking it a step at a time because defensive coordinator Chuck Bresnahan has told him to. And because he has no choice as he tries to grasp the Xs and Os.

"A lot more complicated, but I like the challenge," Pollack said of a pro playbook. "I'm feeling better every day with it. I'm getting used to it."

Bresnahan is trying to make sure he and his coaches don't hurry Pollack along. But he has been extremely encouraged by what Pollack did in space at this camp.

"He had two pass breakups before the interception," Bresnahan said. "He's got a long way to go, but he gets better every day. He's better in everything we're teaching him. He's a coachable guy. He's making progress. With a guy who has played the position before, you might go a little faster. We have to make sure we go from A to B to C and not A to E to M to R, but that's good because everyone can learn from that."

Lewis clearly loves this guy's versatility, and indicated that if he had coached him in college, he wouldn't have played Pollack at end. Asked where he would have played him, Lewis responded with a question of his own.

"Where was Bill Belichick going to play him?" he asked.

When the inquisitor admitted ignorance to the plans of the Patriots head coach, Lewis said, "Middle linebacker."

SLANTS AND SCREENS: Lewis said veteran wideout Kelley Washington has been back in Florida rehabbing from surgery for a dislocated shoulder, and didn't come down on him for missing the offseason workouts ...

Lewis also said veteran defensive tackle Derrick Crawford is getting rave reviews in NFL Europe. Crawford, the 6-3 270-pounder out of Texas A&M-Commerce, is an example of a guy that the Bengals brought into a tryout like the seven they brought into this weekend's camp. On Saturday, they added University of Cincinnati guard Kyle Takavitz to that list, but probably won't announce if they signed any of them until Monday ...

Lewis made sure to tell the group that they are always being watched, and pointed out one of the veterans eligible for the camp in former Michigan cornerback Brandon Williams, a Bengals practice squad player for the last eight weeks of last season. Lewis liked the way Williams played against the Bengals in last year's preseason game in Atlanta.

"I liked how he was covering our guys, beating them to the football," Lewis said. "We found out more about him, he had an opportunity to be brought in here, and we looked under the hood to see if what we saw on tape was real. No matter how you get here, it's what you do once you get here." ...

Free agents Steven Vieira, a guard from UCLA, and Lyonel Anderson, a tight end from Kansas, got here but didn't have much luck once they arrived and left on crutches. Vieira suffered what looked to be a severe foot injury on Friday and Anderson struggled with what looked to be an injured ankle ...

Most of the rookies should be back for the first voluntary camp for all players May 17-19. Either they must have graduated, or their schools must have held graduation in order for them to participate ...

Even before being named a Bengals game captain or receiving his game jersey, second-round pick Odell Thurman has already participated in a ceremonial coin flip at a Cincinnati midfield. He did the honors Saturday night before the Cincinnati Marshalls' indoor game.